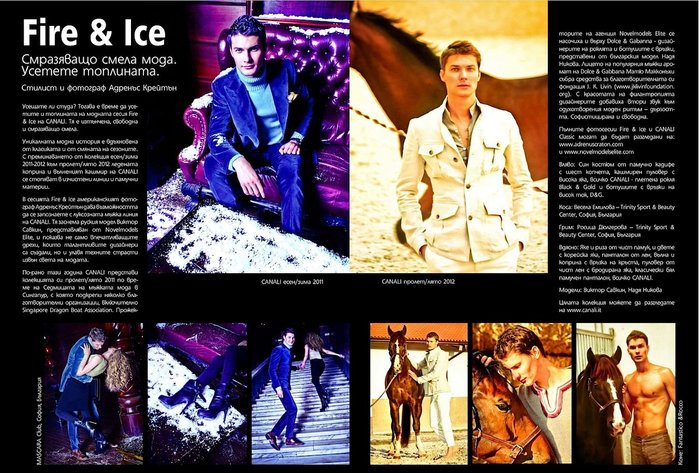 "FIRE AND ICE"
AMICA Magazine
Written, photographed & styled by Adrenus Craton
Feeling the cold? Now it is time to feel the heat. This fire and ice fashion beat is alive in CANALI . Frozen bold, sophisticated and free.
This unique fashion story unfolds with inspiration from the classics, the changing seasons, and a rare opportunity to compare the label's seasonal styles, side by side. CANALI's icy velvets and wool cashmeres melt alongside the pure linen and cotton fabrics from its stylish Fall/Winter collection and its upcoming 2012 Spring/Summer arrivals.
This latest photo shoot is with model, Victor Savkin, represented by new avant garde agency, Novelmodels Elite. The agency works exclusively with designers who are involved in supporting some of our world's most meaningful and charitable causes – shining a spotlight on their passions outside the world of fashion.
Earlier this year, CANALI showcased its previous Spring/Summer collections at a charity fundraising gala during Men's Fashion Week in Singapore.
Novelmodel Elite's spotlight is also on Dolce & Gabanna. The iconic designers of the dress and bow-tie boots worn by Nadia Nikova from Bulgaria, partnered with actor Matthew McConaughey this past summer in efforts to raise awareness of his J.K.Livin Charity Foundation. We love D&G.
It is within the beauty of philanthropy that these designers make their second sound in this spirited fashion beat – Bold. Sophisticated and free.
Models: Victor Savkin, Nadia Nikova
Hair: Vesela Emilova
Makeup Artist: Rositza Dyulgerova
Salon: Trinity Sport & Beauty Center, Sofia, Bulgaria
--
Horses: Rocco & Fantastico
Location: MASCARA Club, Sofia, Bulgaria
Clothes: CANALI, Dolce & Gabbana