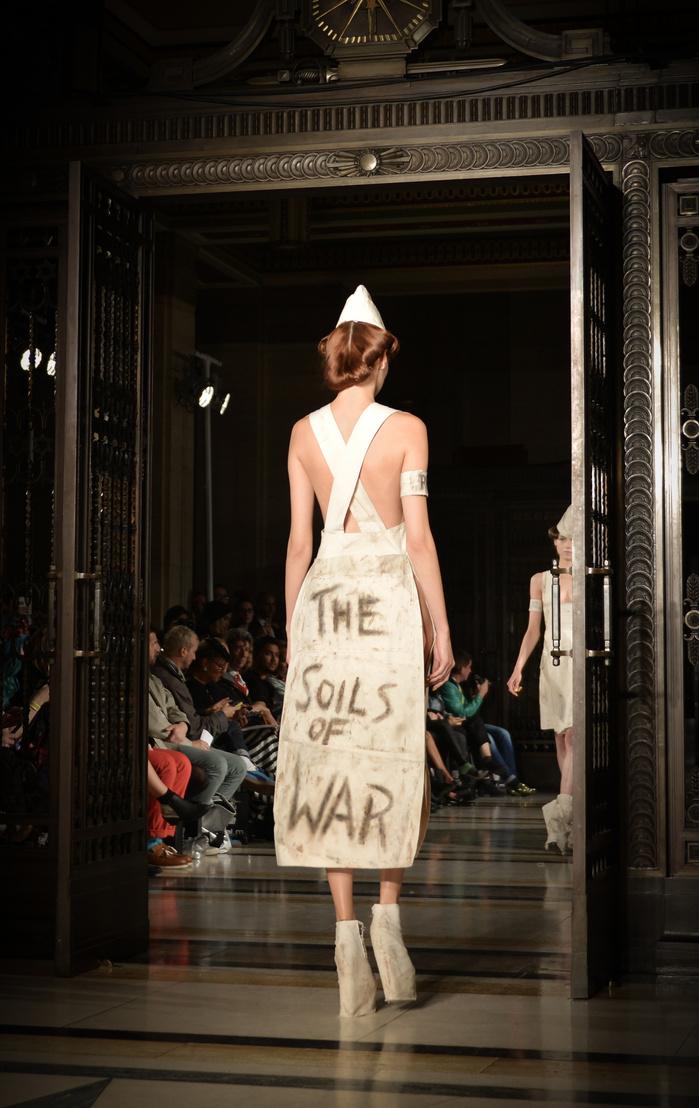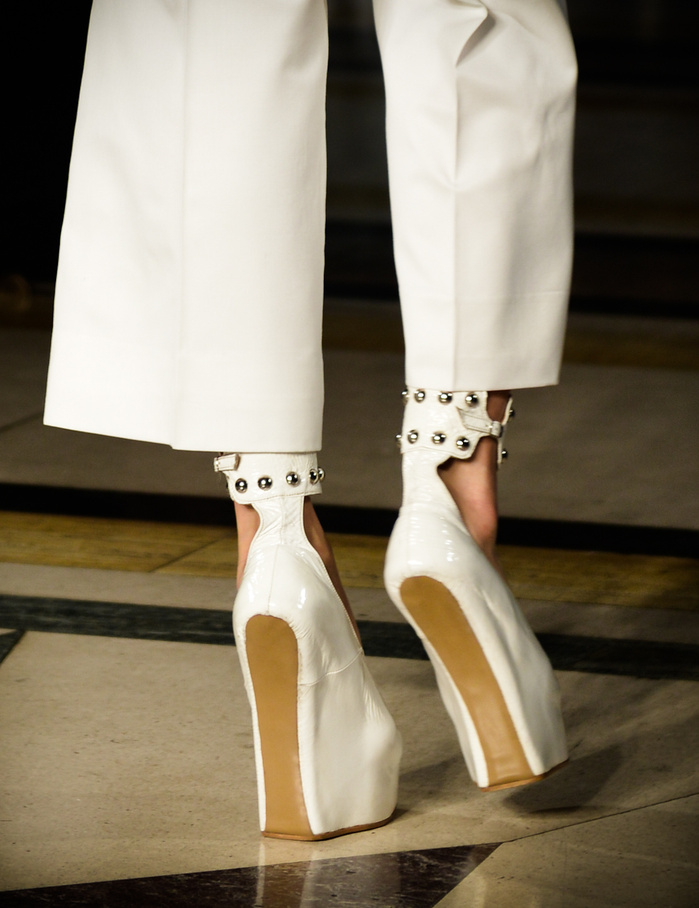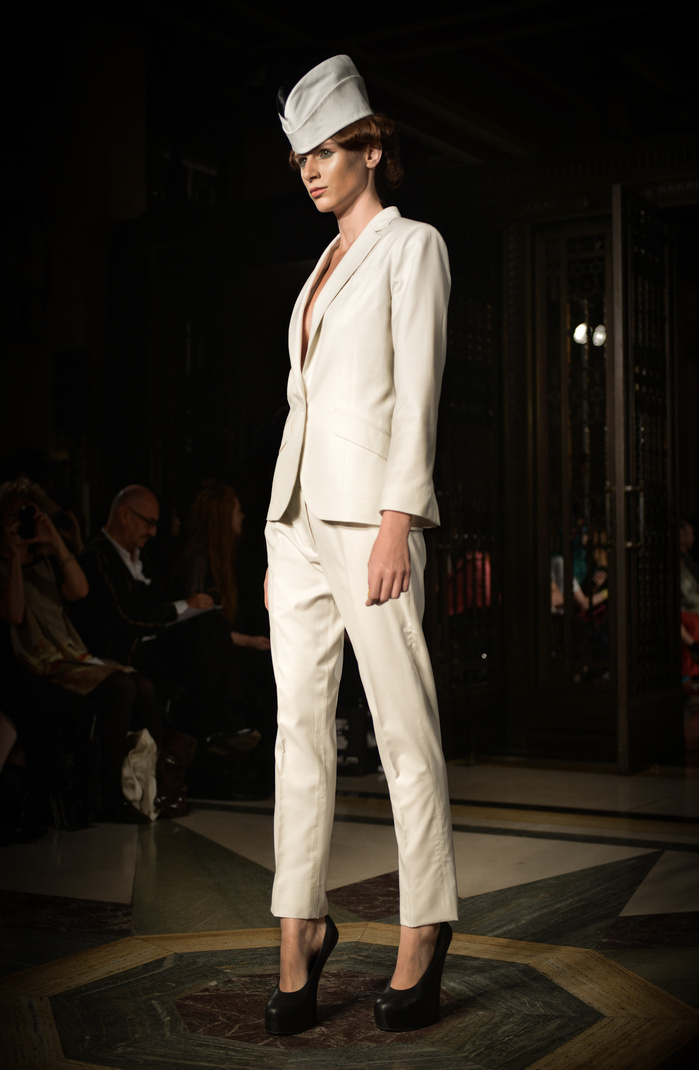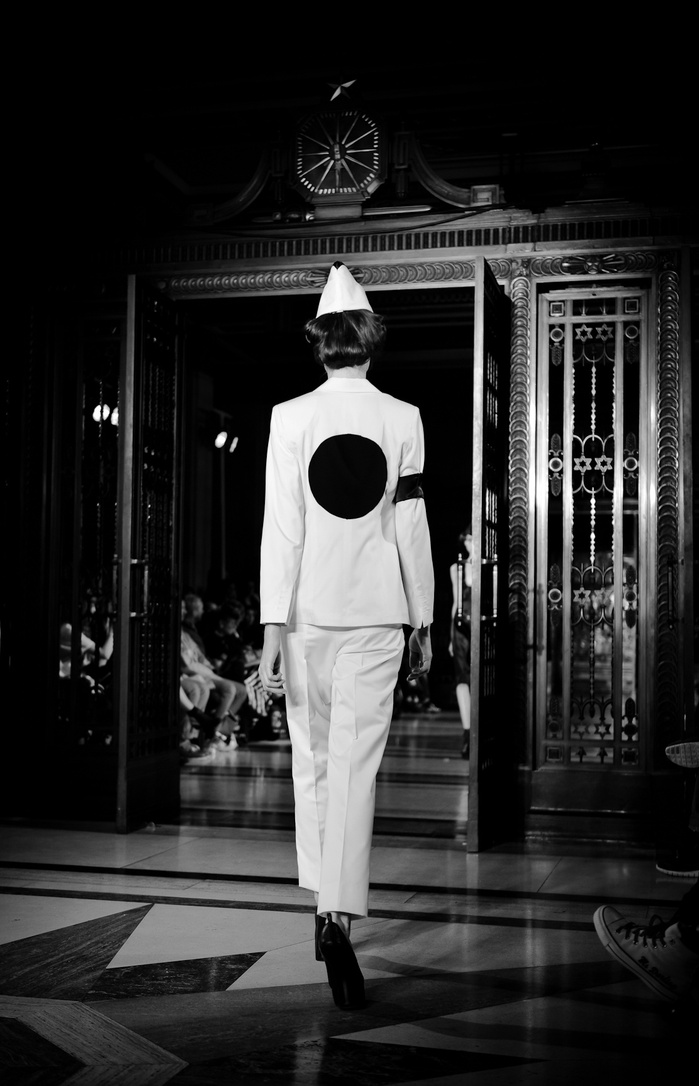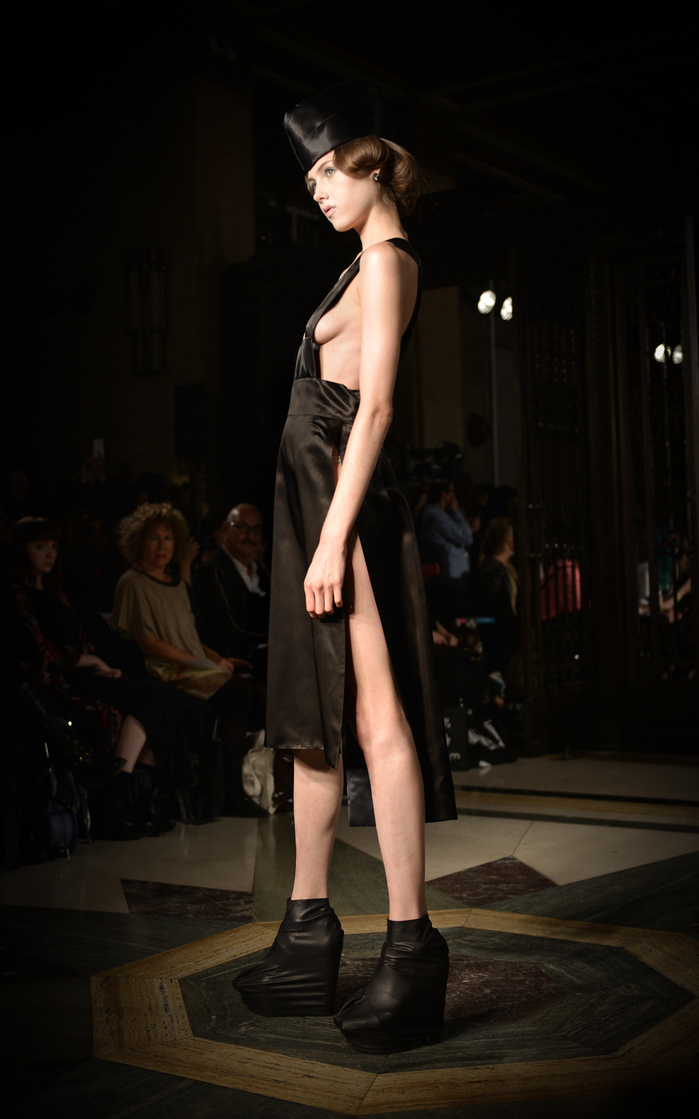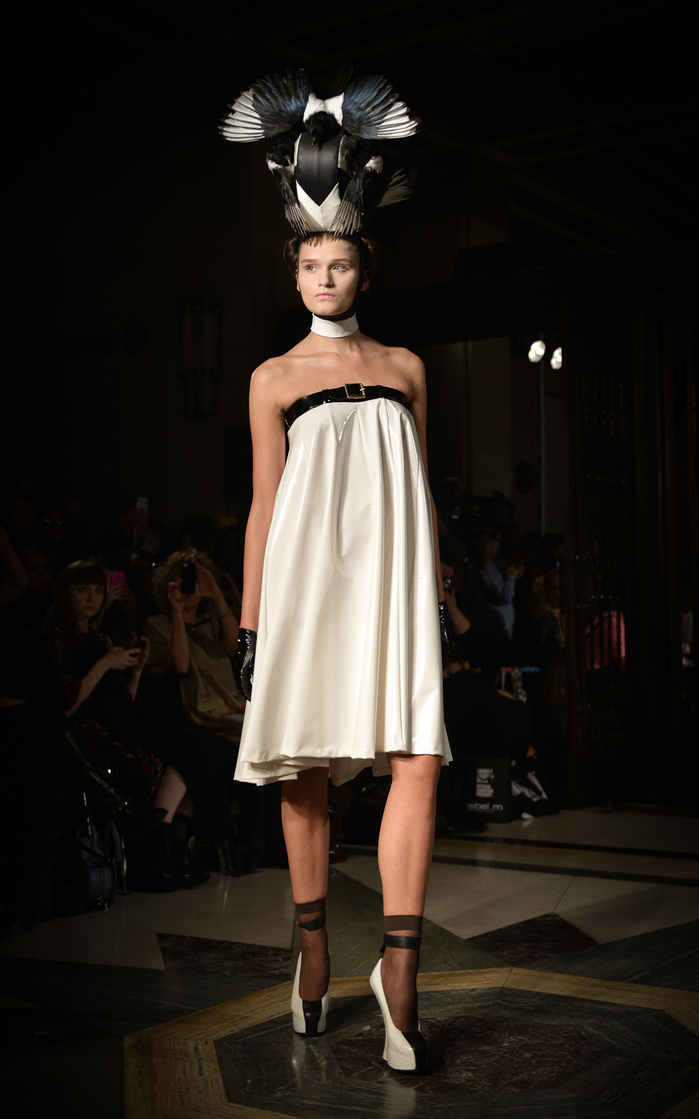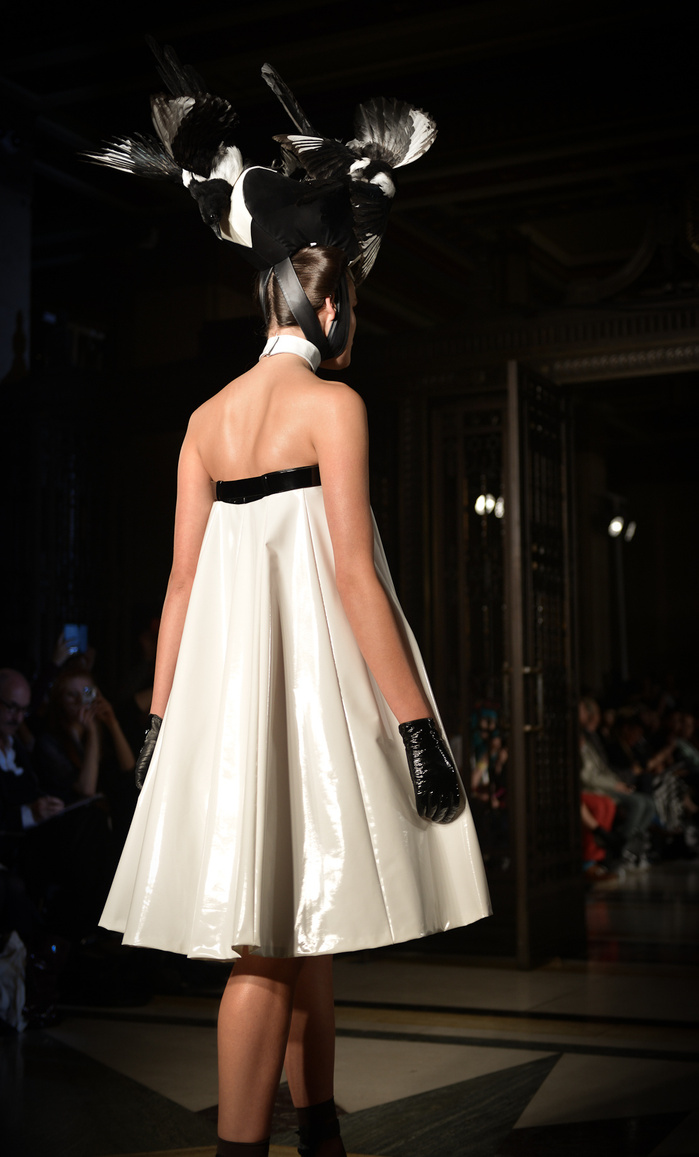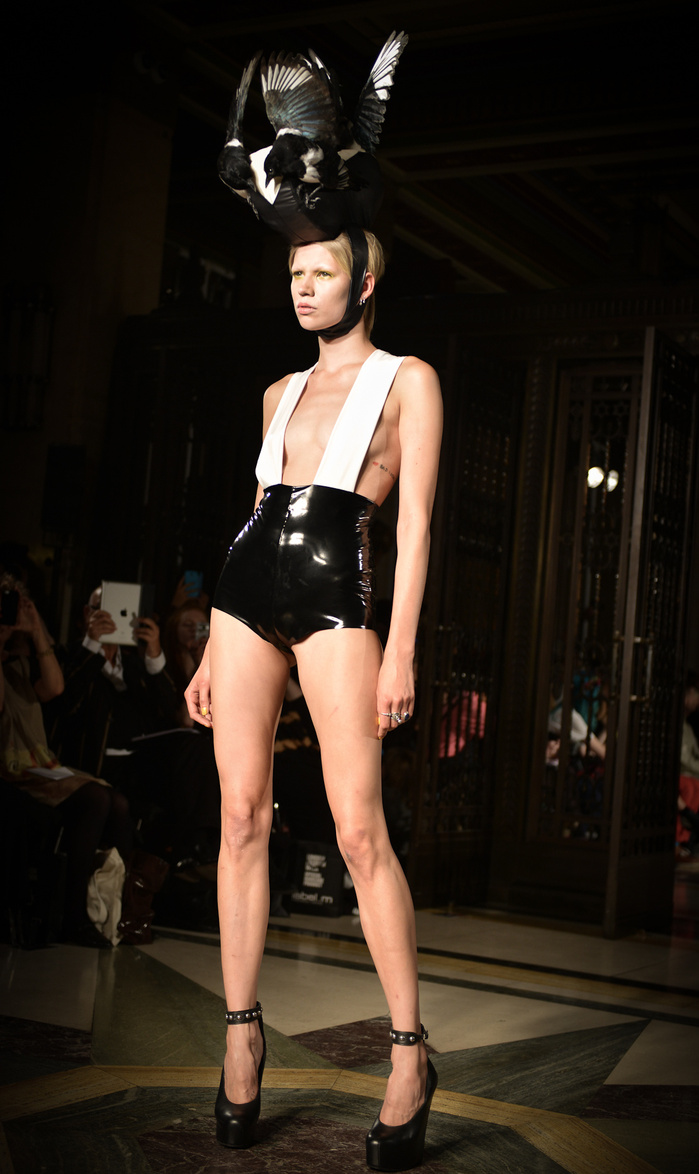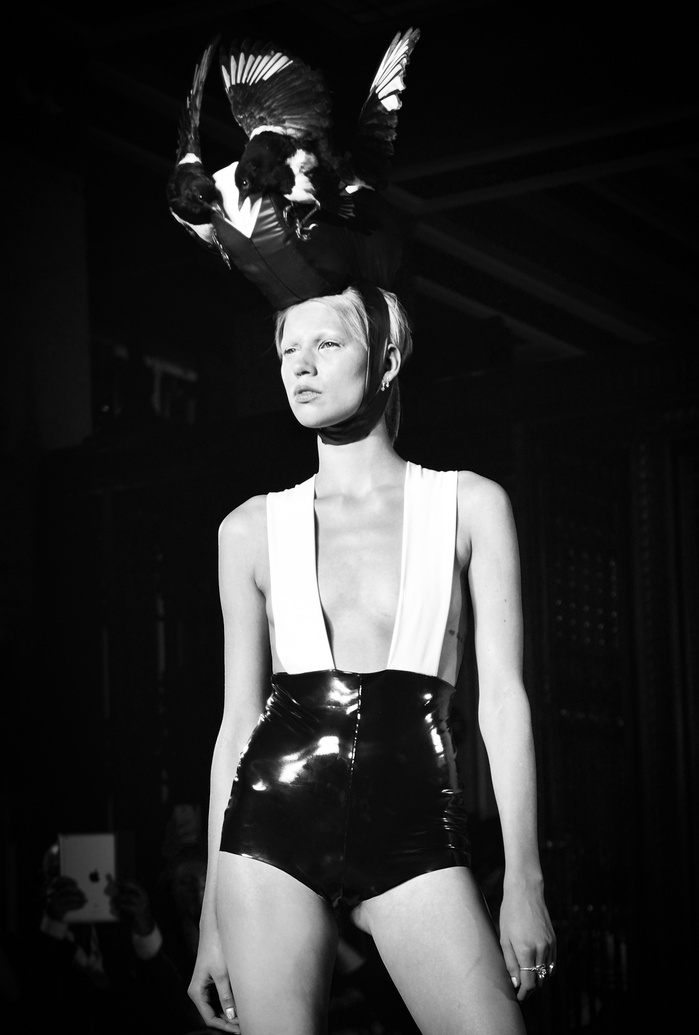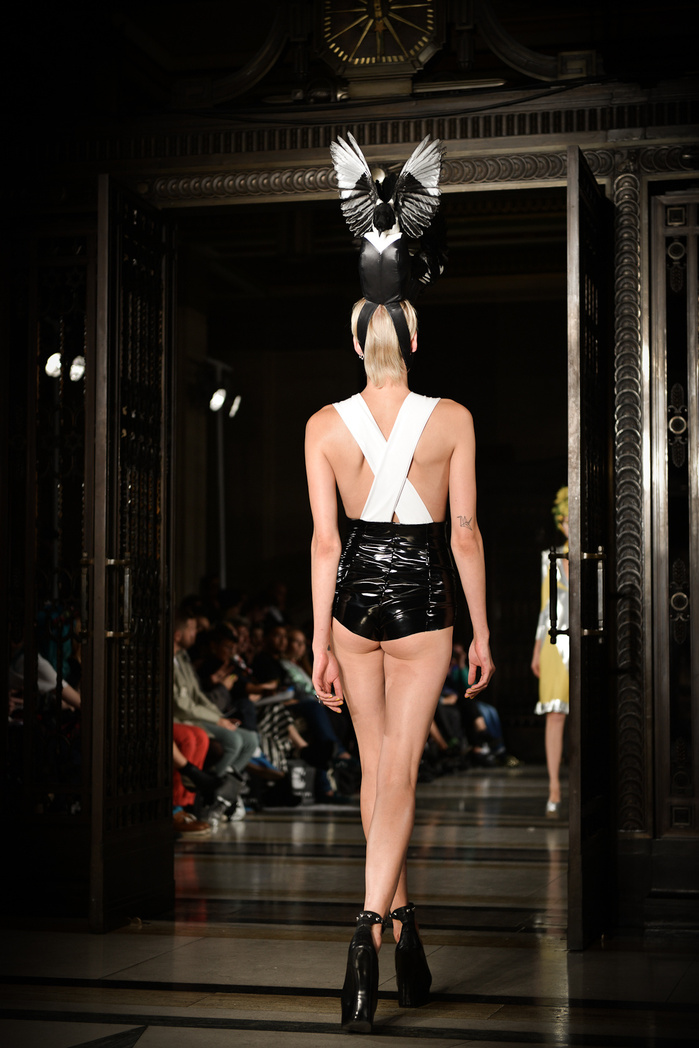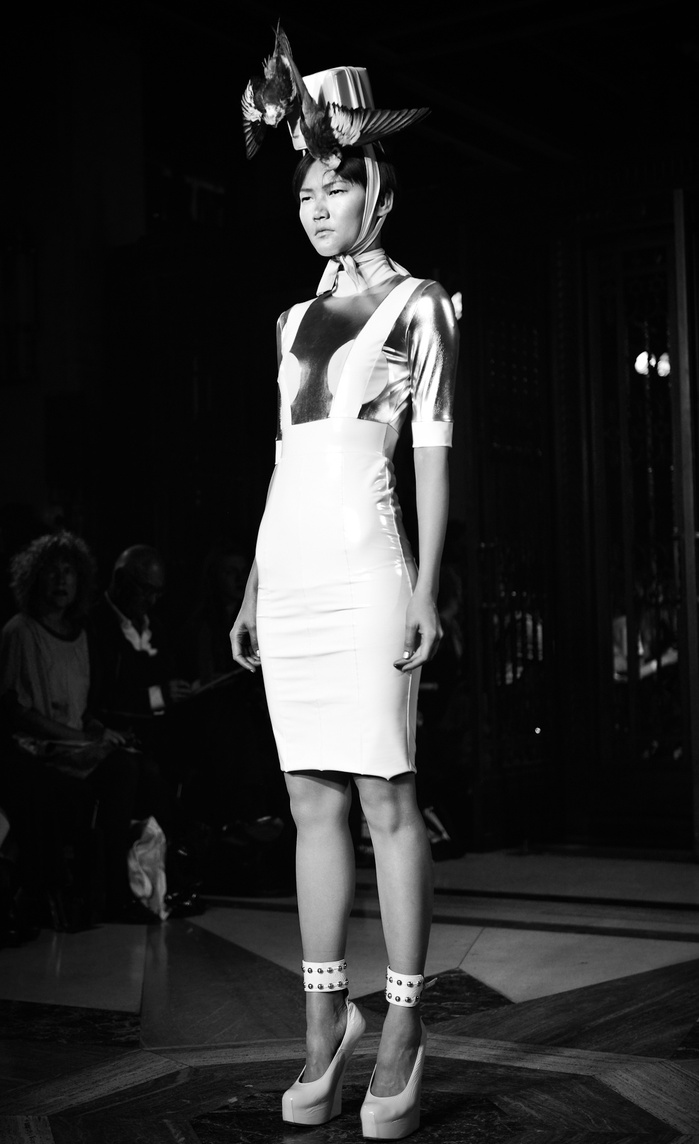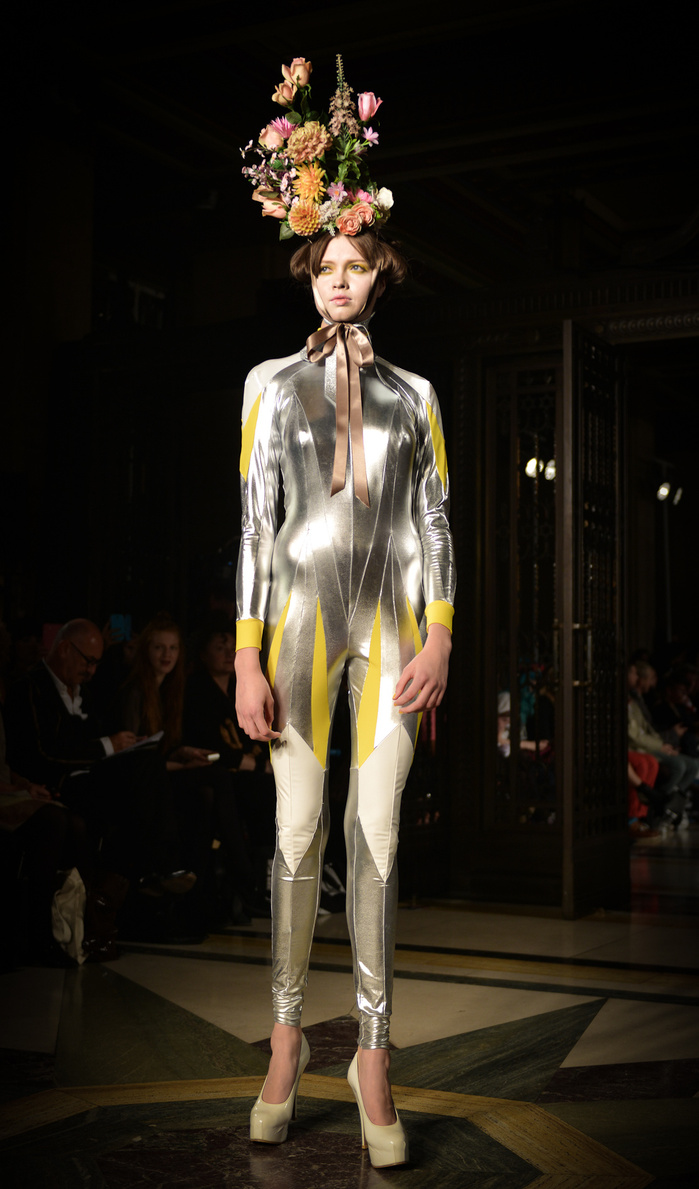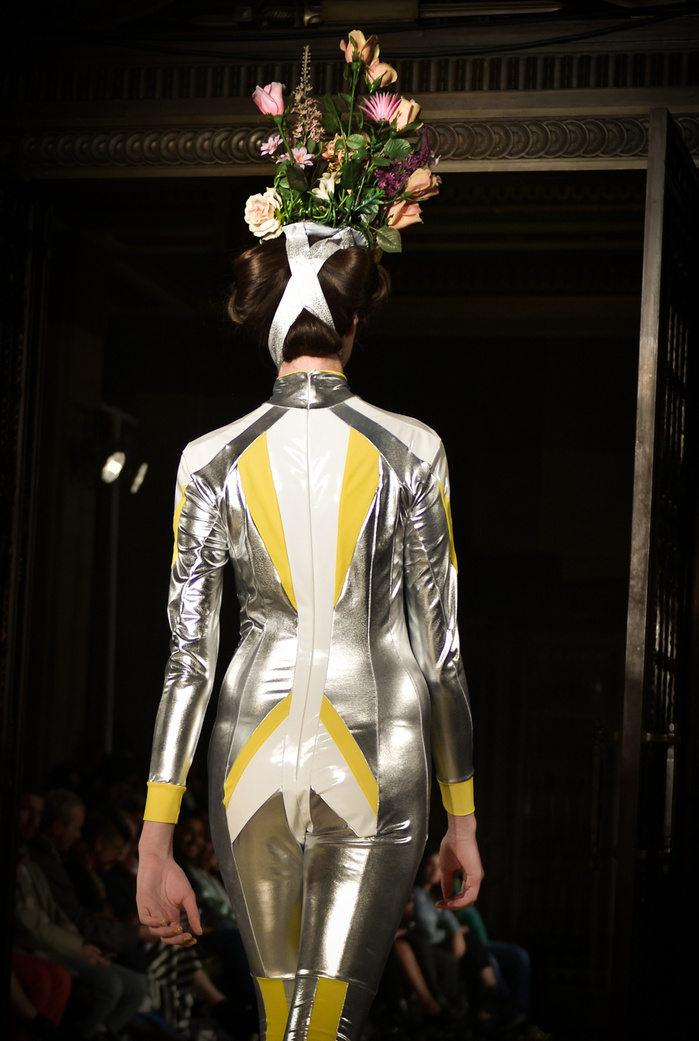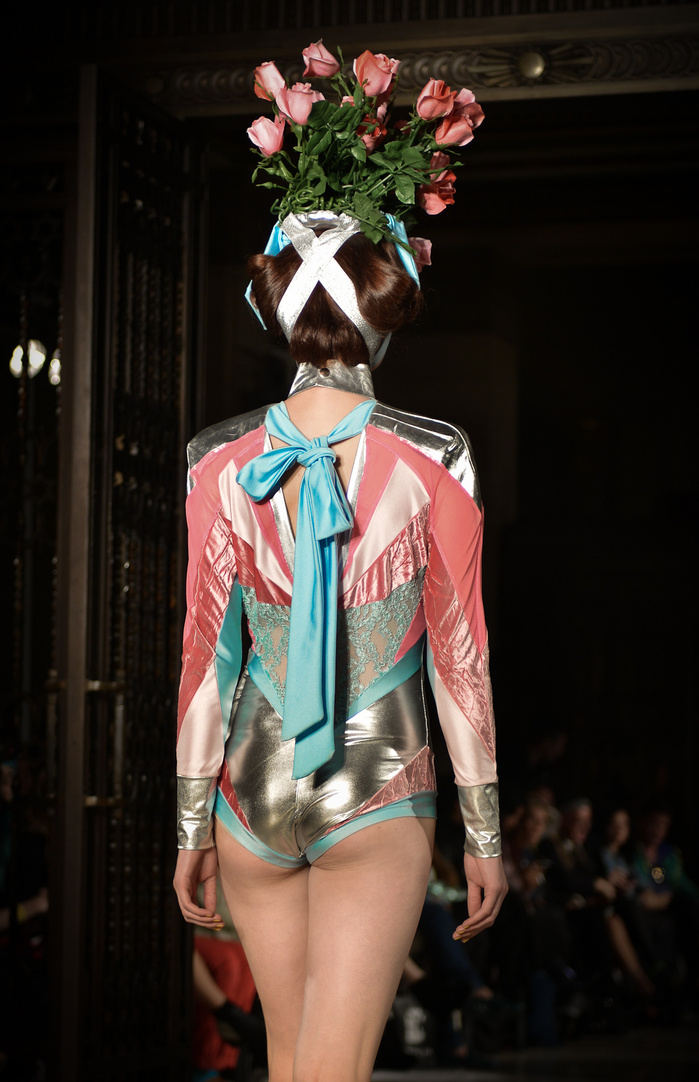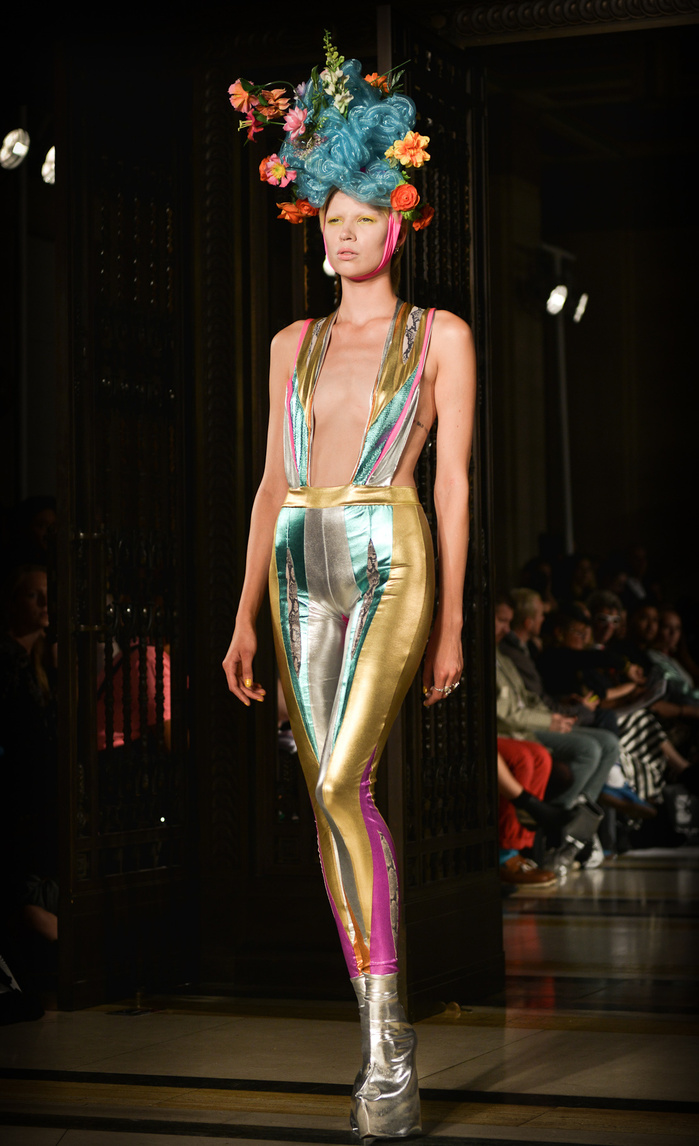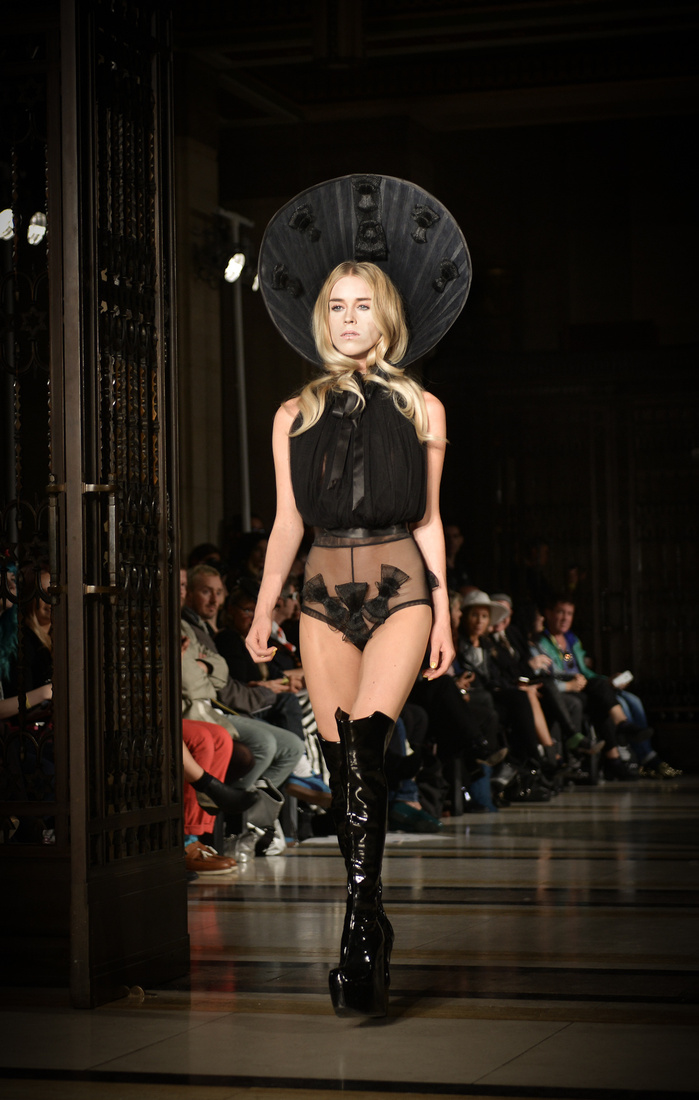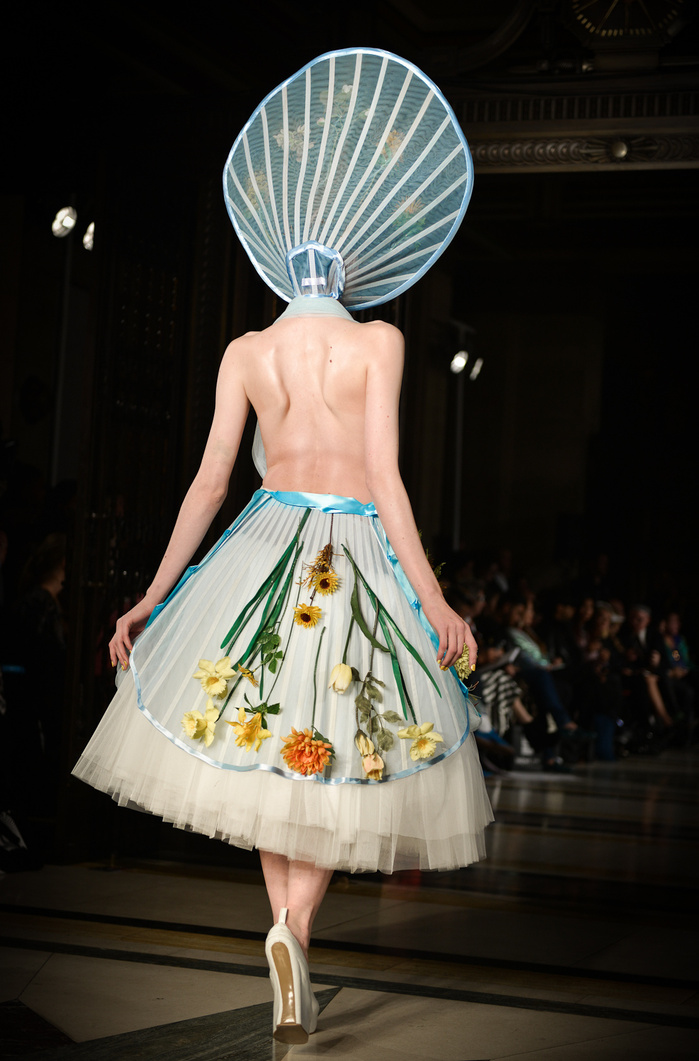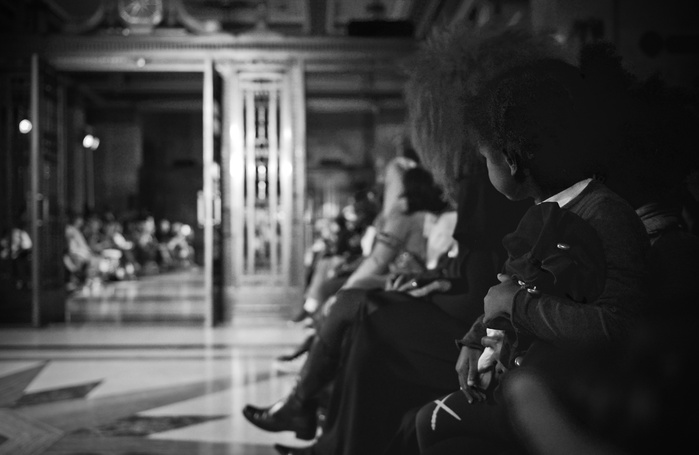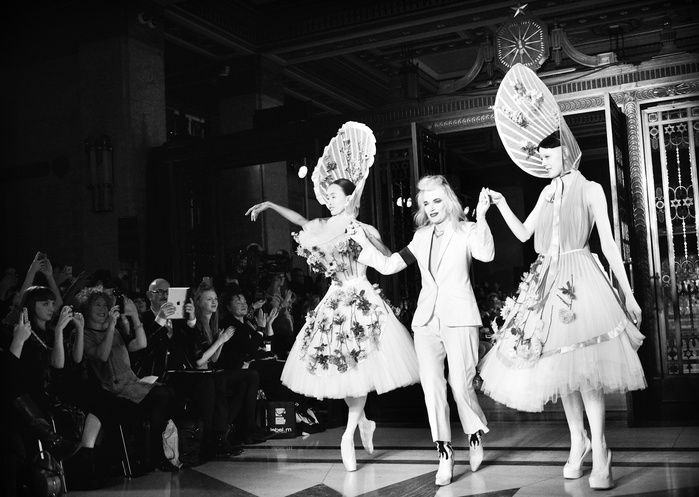 MY (I mean our) CATWALK BALLERINA | PAM HOGG SS 2014 Catwalk Show
'Future past: War & Peace: Past future' …Racy? Yep. Artistically stimulating? Yep… Unexpectedly arousing? (in a creative sense of course) Yep again. It was so much so that you could almost forget it was a fashion show we were attending in this landmark, museum of a building, Freemason's Hall. It felt more like a living, moving, breathing art exhibition coming straight for us all. You could see it on everyone's faces. Somehow we all had been drawn into this unusual presentation - like a moth to a flame.
Pam Hogg - she is a legendary fashion designer. Just over three decades ago she launched her first London collection. This year she delivered again with her Spring Summer 2014 collection, beginning with a khaki military salute that made us all salute with a smile in return. Then it progressed into futuristic brights and feminine second-skin metallics. There were the fruit basket head pieces, translating into a glossy bouncing version of Monet's Still Life with Apples and Grapes. There were even birds… yes, headpieces made of birds and feathers. Just when I thought, wow, this is the most mind blowing, artistic, avant garde show I've ever been to… out pranced… *gasp* … my Catwalk Ballerina. This art-fashion-induced visual orgasm had reached near its peak. To my own startlement and surprise I just let it all out - a not so subtle… YESSS! Oh my god, YESSS!
At some point I heard my own voice in amongst the photographer's pit of shutterbugs. Certainly that could not have come from me. I am not that sort of photographer to ooh and ahhhh and verbally caress while trying to bring about or stabilise that one amazing shot. My (I mean our) Catwalk Ballerina arched her back and swanned her arms into such a pose that I nearly stood up (from underneath the photographer's video tripod which I had contorted my small body to fit in underneath so that I could be in line for a coveted pit / front row view). I nearly stood up in that moment, clapped my hands with a boisterous 'Bravo!' and walked away satisfied with just 10 photos.
But honestly, no… because I could not move my limbs without single handedly taking out the entire pit above me. So I sat still and we all continued snapping away. We had all become victimised by this bold and confident display of, "oh no you didn't… oh yes I did" outfit extravaganza. Colours vs. metallics, patent leather vs. skin, flower filled vs. jaw dropping, breast baring garments (i mean, master pieces of divine fashion couture) - when these started to touch the senses there was no reigning it in.
The skin on my arms tingled as I watched my flower bombed ballerina tippy toe down the catwalk - arms in the air, twirling, bending, swooping to the spot where for sure she would give me (I mean us) the pose that would actually bring a tear to my eye.
Pam Hogg, she is the designer who has dressed Lady Gaga, Lily Allen, Jessie J., Tyra Banks, Rihanna, Naomi Campbell, Claudia Schiffer, Kate Moss (LoVe her)… you are an artistic genius. The show was incredible and far removed from a usual mainstream runway. In fact, it was so incredible that I chose right there to end my London Fashion Week journey with this off schedule Vauxhall Fashion Scout catwalk show - on that highest artistical note.
But of course, I must "memoir-thank" one more person - Allen Parker. Thanks so much for inviting and 'ushering' us all into the show (even though my shooting arm was already near broken, bodies in shambles from the days before and memory card so full I had to clean up mid-show). I will never again judge a designer's book by its cover. As the late James Dean said to Hedda Hopper, "You must not allow yourself to be opinionated. You must say, 'Wait. Let me see.'"
Well, I saw…
…and I loved! And I hope to do it all again next season. *sigh* Next stop Paris? <3