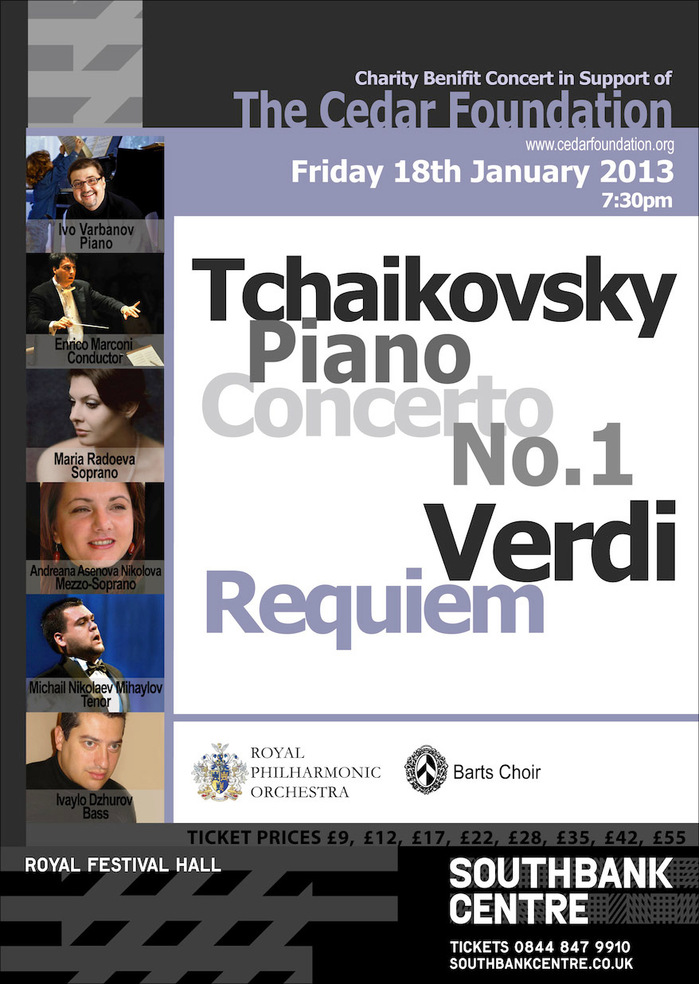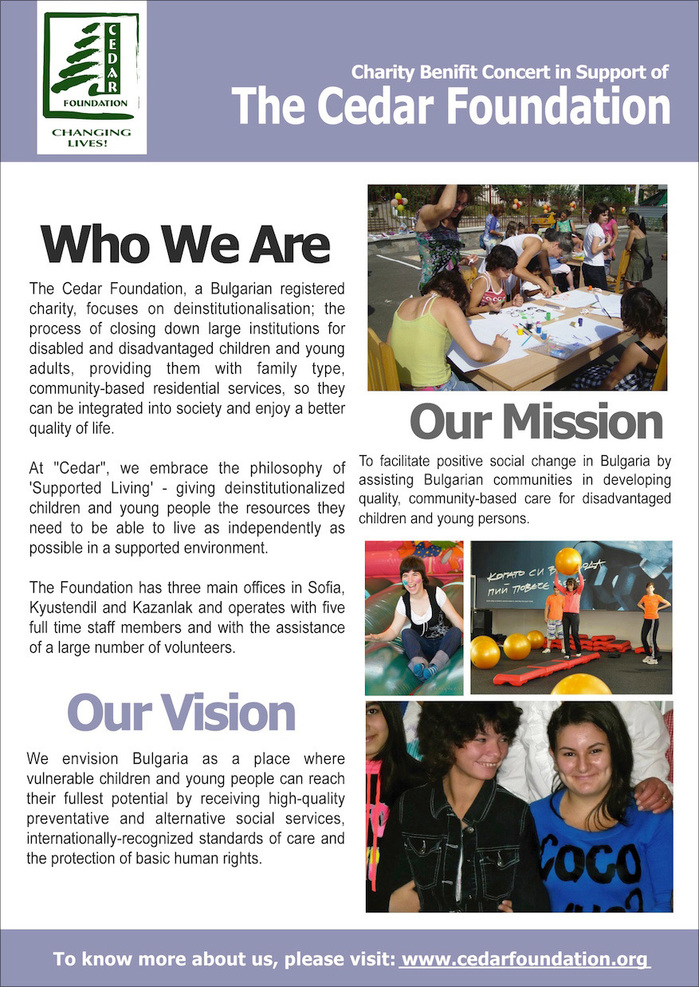 Royal Festival Hall 2013 | Southbank Centre London
Design by Adrenus Craton
THE CONCERT
Peter Ilyich Tchaikovsky: Piano Concerto No.1
Giuseppe Verdi: RequiemRoyal Philharmonic Orchestra
Enrico Marconi conductor
Ivo Varbanov piano
Maria Radoeva soprano
Andreana Asenova Nikolova mezzo-soprano
Michail Nikolaev Mihaylov tenor
Ivaylo Dzhurov bass
Barts Choir
"In an evening benefitting The Cedar Foundation of Bulgaria, Ivo Varbanov, Enrico Marconi and the Royal Philharmonic Orchestra join forces to tackle two of the Romantic period's greatest works.
Tchaikovsky's Piano Concerto No. 1, played by Bulgarian pianist Ivo Varbanov, was famously dismissed by Rubinstein as 'bad and vulgar' but has gone on to stand the test of time with its broad opening tune, crashing piano chords and its thrilling finale.
In contrast, Verdi's Requiemoffers a stunning finale in epic proportions. Encompassing every extreme of emotion, Verdi's Requiem is performed by the Royal Philharmonic Orchestra and features Bart's Choir, Soprano Maria Radoeva, Mezzosoprano Andreana Asenova Nikolova, Tenor Michail Nikolaev Mihaylov and Bass Ivaylo Dzhurov.
The Cedar Foundation focuses on deinstitutionalisation - the process of closing down large institutions for disabled and disadvantaged children and young adults, providing them with family oriented, community-based residential services, so they can be integrated into society and enjoy a better quality of life." - Southbank Centre.
18 January 2013, 7:30pm